Northwest Indiana Times
Charles F. Haber Times Correspondent | Jun 25, 2018
HIGHLAND — Just as the cardinal bird represents the state of Indiana, the upcoming Cardinal Campus represents new growth in the town of Highland.
Motorists along the corner of Main Street and Prairie Avenue already see a two-story business building standing tall — with six more on the way, plus a 30-room boutique hotel.
The ground floor of that first building will be home to the Veterinary Orthopedic Center, which is slated for an occupancy permit around the middle of September.
"We anticipate it will take about six weeks to stock it, test the equipment, train staff, etc., and be ready to perform the first surgery the first of November," said Dr. Claude Gendreau, a veterinary surgeon from Buffalo Grove, Illinois.
Gendreau, who is also the developer behind Cardinal Campus, says he will not be the only medical professional making the complex his new home.
The second building will be home to a "highly respected group of doctors," Gendreau said.
"There is also a second group of doctors very interested in acquiring space in the second building," the doctor said, noting that he recently met with their practice manager.
All parties interested in the 9-acre location have been medical-related, Gendreau said, adding that he will soon show the Campus to another group wishing to set up a continuing education center for medical professionals.
"Very preliminary interest" at this juncture, the doctor noted.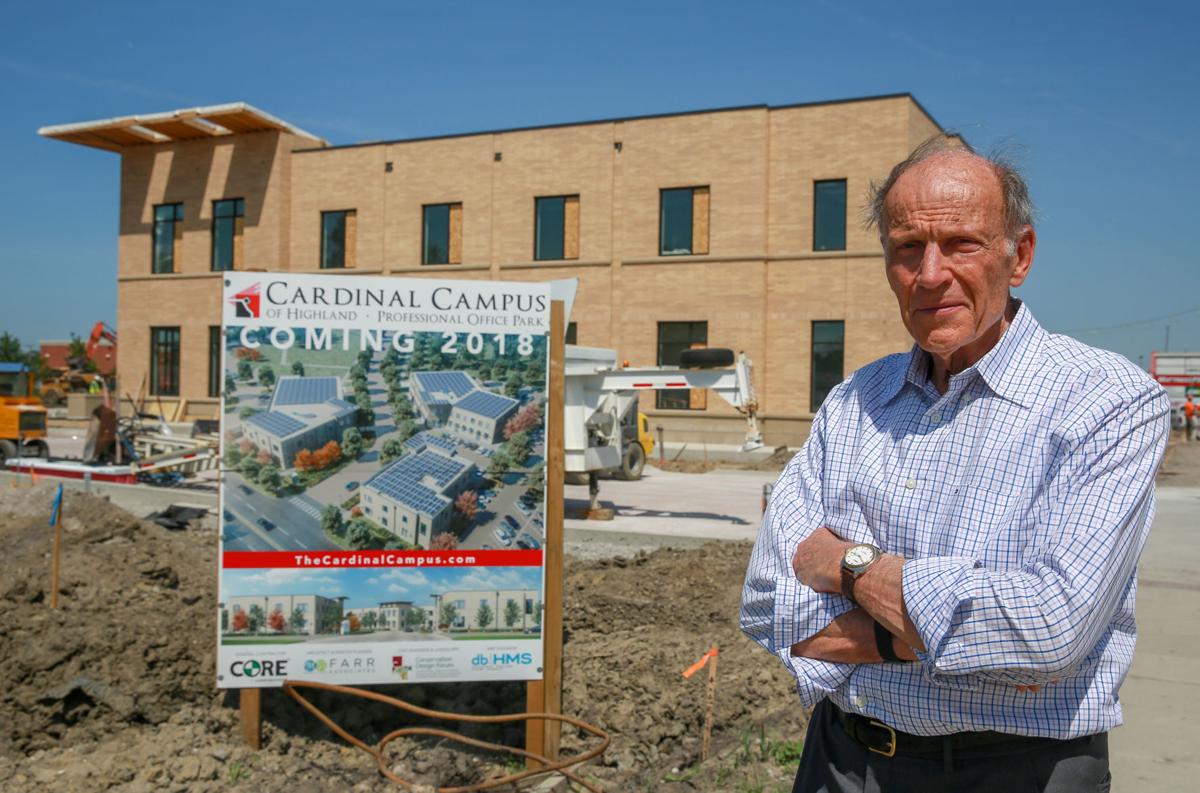 The foundations have already been poured for the second and third buildings, which will be completed this year, Gendreau said.
"Building two will be occupied by end of (the) year/start of 2019," he said.
Phase two of the Campus will start next spring, with the other buildings sprouting up as demand dictates, he said.
The boutique hotel, similar to Gendreau's highly successful one in Homewood, will probably go up in the spring of 2020, he said.
All the buildings, and probably the hotel, will have solar panels, the doctor noted.
"It's going to reduce the environmental impact of those buildings," he said.
Gendreau's veterinary building will be all-electric with no gas and is expected to be "energy net zero."
He further noted his building is closing in on platinum certification in the Leadership in Energy and Environmental Design program.
This is the highest certification within the LEED designations, said Tim Kirkby of Farr Associates.
"Cardinal Campus will be the first LEED certified neighborhood development plan in Northwest Indiana," said Kirkby, who suggested the Cardinal Campus moniker.
Source: https://www.nwitimes.com/news/local/lake/cardinal-campus-flying-right-on-target/article_a3c38ed0-b82d-586a-b0ff-af02080c7100.html?fbclid=IwAR22THvjJ-36cOh29eWubOvLDgixLeIDNFZNuqlSkUxoBWcxiP-t4zDJL58